November 1st, 2023 by admin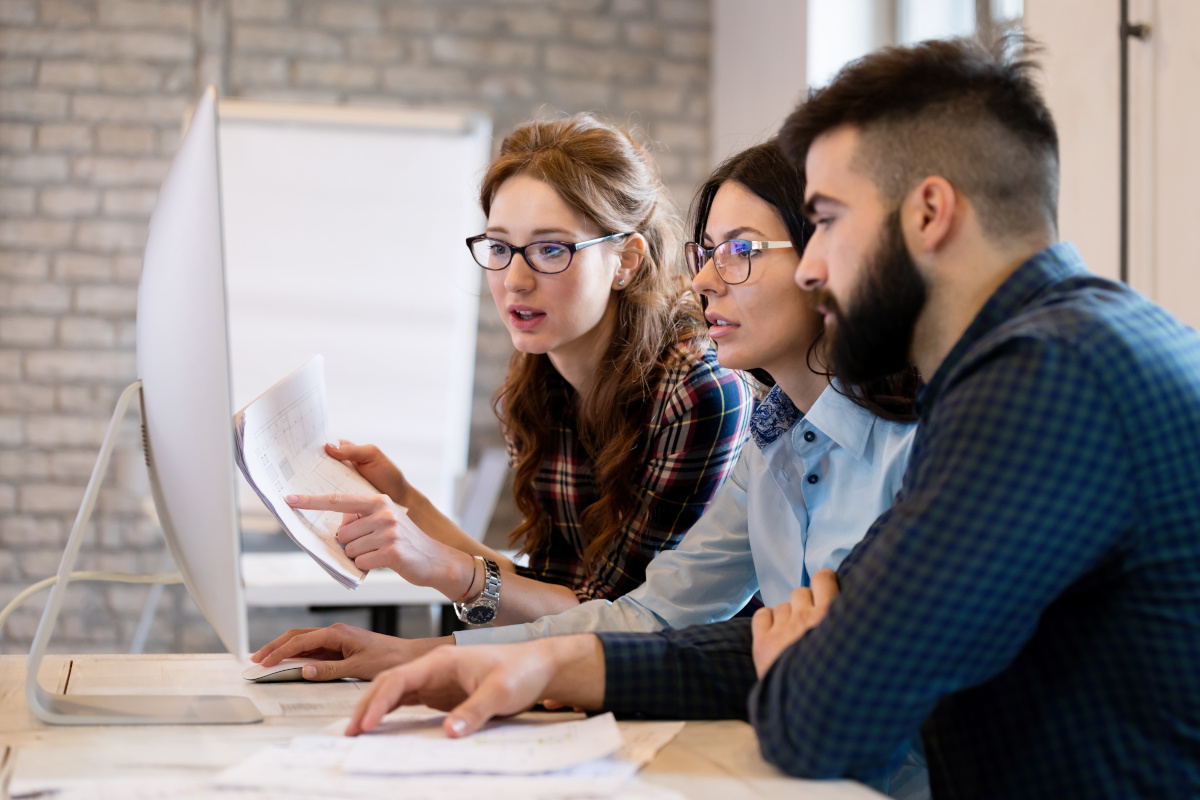 The internet has allowed businesses to be more efficient. Communication and collaboration are a breeze, sharing and file storage are faster and safer than ever before, and thanks to certain apps, you can perform tasks faster. Apart from the Cloud, you only need a subscription that offers you a consolidated perks package.
Consider this:
You are working on a project. Your manager has asked you to add some expert insight and stats in the report from different stakeholders. Once you have gathered all the data, you make a brief for the copywriter to do his job. The file is then sent to the graphic designer, who sends it to the editor. Finally, the website manager receives it and publishes it.
If you go about doing this task the old-fashioned way, you would have to send tons of emails and follow up in person with people to ensure they are doing their part of the job. With Microsoft 365, you can accomplish all of that without getting up from your workstation.
Let's take a look at the top ways Microsoft 365 increases productivity:
Streamlines Communication
Microsoft Teams is a part of Microsoft 365 that enhances communication and collaboration between employees and with clients. It offers instant messaging, video conferencing, and file sharing, making it a valuable tool for remote work. You can hold virtual meetings, share documents, and collaborate on projects without needing multiple applications.
With Outlook, you can ensure teams from different departments stay organized and connected with fully integrated contacts, calendaring, and email. For real-time spontaneous discussion, you can connect with anyone anytime through Yammer.
Collaboration Is Easier
Collaboration is at the heart of productivity, and Microsoft 365 excels in this area. Since all the data is stored in the Cloud, multiple employees can work on the same document simultaneously, with changes and comments tracked in real-time. This feature, combined with cloud-based storage, ensures that you and your team are always on the same page.
Seamless Integration
Microsoft 365 offers seamless integration between various applications, including OneDrive, Word, Excel, Outlook, and PowerPoint. This allows you to create a holistic workspace where you can easily switch between tools and share content with colleagues. For example, you can draft an email in Outlook and attach files from OneDrive without leaving your email platform, saving you time and effort.
Advanced Security
Microsoft 365 provides advanced security features, including threat protection and data loss prevention. This ensures that your work and sensitive information are protected from cyber threats.
Microsoft 365 uses robust encryption techniques to protect data. This ensures that unauthorized individuals do not intercept your documents and emails. It uses industry-standard protocols like TLS (Transport Layer Security) to secure data as it travels from Microsoft's servers.
The Power to Automate
Microsoft Power Automate is a SaaS platform that allows you to automate repetitive tasks. This will enable employees to set up workflows that automatically send notifications, organize files, or perform other routine tasks, freeing up their time for more creative work.
Disaster Recovery
Downtime can result from unexpected disasters like data loss and system failures. Microsoft 365 provides backup solutions that safeguard your data, ensuring business continuity. Tools like OneDrive, Exchange Online, and SharePoint offer recovery options, making it easy to restore lost data in the event of an incident.
Microsoft has an extensive network of data centers that are spread all over the world. In the event of hardware failure, services quickly transfer to another data center, minimizing downtime. This reliability is essential in ensuring zero disruptions.
Scalability
Microsoft 365 is designed to scale with your business. It operates on a subscription basis, allowing you to add or remove employees as needed, which is flexible and cost-effective. Now that WFH has become a norm, with many businesses using it as a benefit to attract global talent, this Cloud-based suite can be accessed from anywhere.
AI-Powered Assistance
Imagine having a personal writing assistant built into Word. This assistant gives you intelligent insight on improving your content, including grammatical errors, tone and style of writing, and even suggestions to make the content more compelling. You can even make data-driven decisions by tracking readability and engagement.
In conclusion, Microsoft 365 is not just another suite but a powerhouse of different software that allows you to streamline communication and collaborate on projects in real-time. This enables employees to be on the same page.
Whether you are a small startup on the verge of expanding or a large organization looking to allow your employees to grow, Microsoft 365 provides the infrastructure and tools necessary for success.
Contrast offers Microsoft 365 and other tools that allow you to manage your business operations efficiently.
If you want to learn more about how Microsoft 365 can boost productivity, contact us today.
Posted in: Solutions